With the amount of time we spend in the bathroom, it's one of those rooms in your home that must serve utility and beauty in equal measure. Match that with a typically small space (unless you're lucky and have space for days, and in that case, keep it to yourself), and you're forced to do two things; 1) think of what you need to have, and 2) think of how those things need to carry visual impact.
To that end, choosing strategic elements to impart big style becomes a matter of both purpose and drama. And choosing items that do double duty becomes imperative.
Take for instance this gorgeous bathroom. Tiles save the dry wall from water wear and the stainless steel sink is not only easy to clean but imparts big industrial style.
And in this bathroom, the use of mirrors across the entire back wall lend a sense of dimension to an otherwise very small space.
Wallpaper is another way to create big impact without big spending. Since bathrooms tend to be smaller spaces, you don't need much…saving even more money (so you spend it on amazing fixtures;), while the pattern obscures the dimensions of the room, important with little square footage.
Accessories are another area where beauty need not fall victim to function. Just look at this gorgeous Asscher set from WaterWorks. Toothbrush, soap, waste bin—it's all here, but dressed up as if going to a fancy shin dig.
And this set from Restoration Hardware is particularly handsome.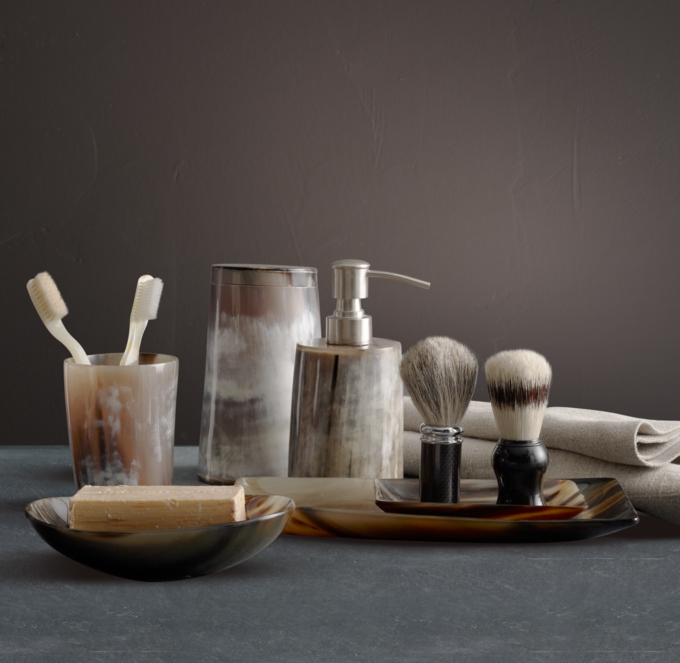 Don't forget about good lighting! And by good, I mean it not only gives you great task lighting but looks like a jewel in the room AND makes you feel like a jewel with flattering light placement.
Overhead lighting works well when diffused by a shade or pointed upward.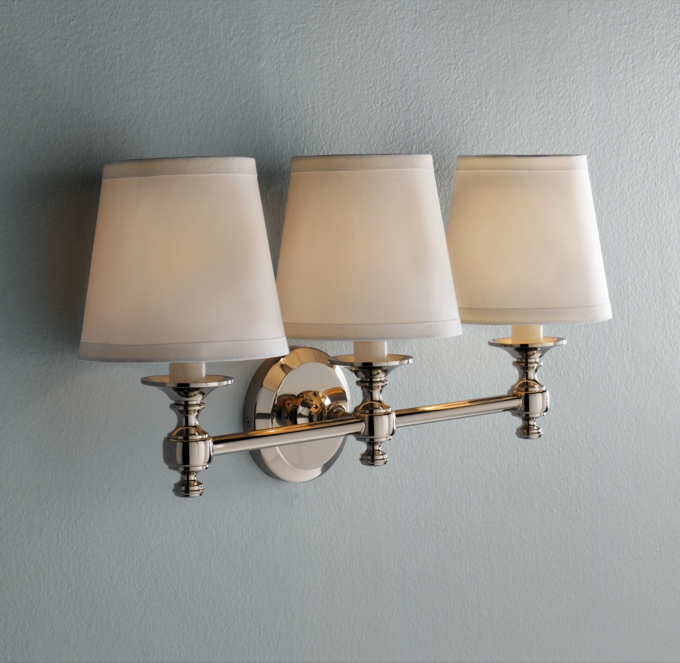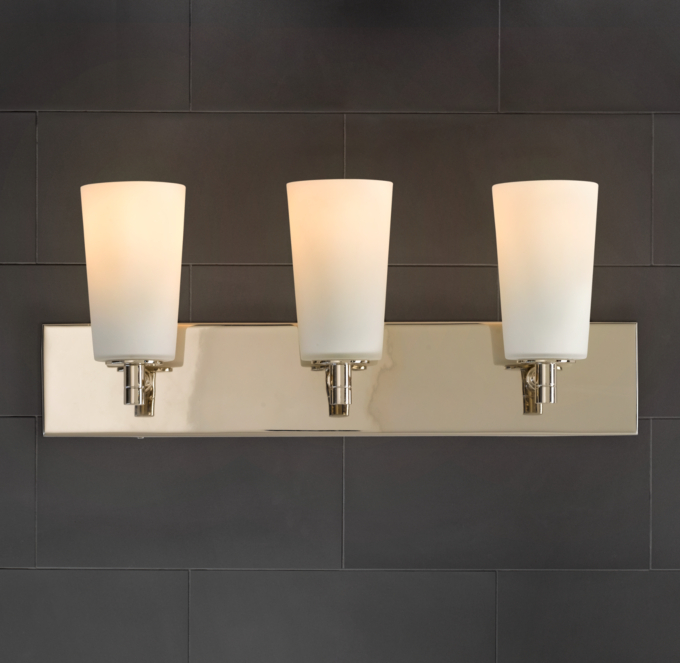 And sconces, in pairs, do an excellent job of giving off the right lighting without harsh shadows.
If your bathroom serve double time as both toilet stall and shower, you've got two solutions; walls or curtains. With glass walls you keep your space feeling open while containing spray. The great thing about glass walls are that they're simple to keep clean (keep a window squeegee in there…not so glamorous but you will thank me later) and they don't break up your space. The downfall is water spots (see my parenthetical note).
But curtains are also effective and lend texture. I also happen to find them quite charming.
Making the most of your bathroom while imparting big style starts with a balance of practical and pretty. With the right accessories and some strategic choices your space can be just as glamorous as it is functional.
-Roxanne